The Ultimate Work Sock
Now available – Wells Lamont socks!
Wells Lamont is proud to announce that we now offer The Ultimate Work Sock!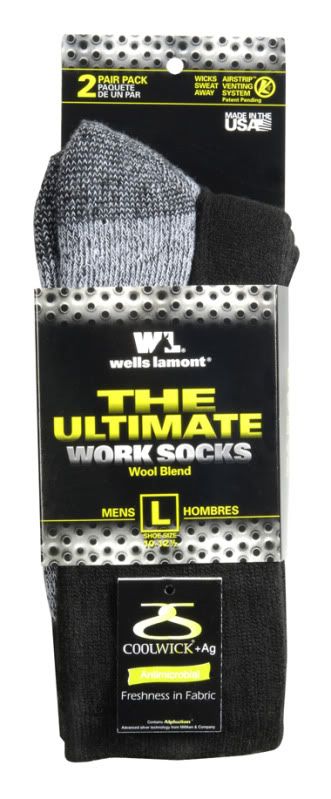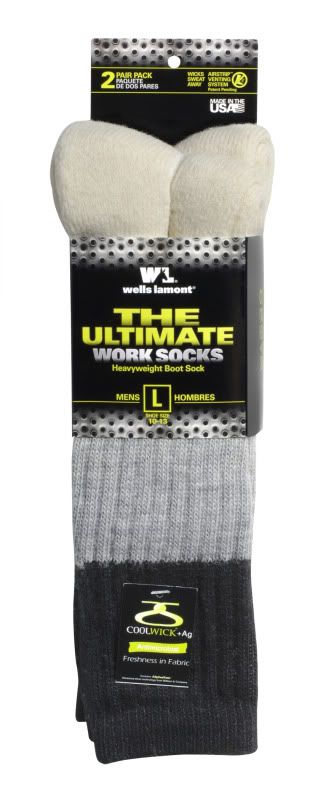 Made in the USA and available in both cotton and wool blends, the Wells Lamont Ultimate Work Sock features the following attributes:
Cushion Comfort – Sandwich terry construction throughout the inside of each sock – even the leg portion.  This provides added cushion comfort without added bulk.
So Soft Feel – Only ring spun cotton yarns are used in our Ultimate Work Socks.  Ring spun yarns provided added comfort due to their softness.  Our wool blend styles are combined with acrylic yarns for super soft feel and comfort.  You will feel the difference!
Airstrip™ Venting – A thinner knit along each side of the foot which provides breathable comfort.
Arch Support – Special knit construction for all day use comfort.
Reinforced Heel & Toe – Reinforced knits improve wear in wear prone areas.
Coolwick®+ AG Yarn – Performance yarn that is both anti-microbial and moisture wicking.  Combined with AlphaScan™ advanced silver technology from Miliken & Company, our Ultimate Work Socks are designed to keep your feet cool and comfortable.
Get your Wells Lamont Ultimate Work Socks now!  Available now at Amazon.com